The first print designed for My First Billboard went up today, in driving rain no less. Hopefully it will still be up there tomorrow morning but if this hellish weather
has
washed it away never fear we shall proceed!
There's some images of the print below (as well as a digital version earlier in this blog). Its comprised of digitally manipulated and layered elements from Topolino comics, Italy's Mickey Mouse. I have to say i think the name Topolino is infinitely better. The images themselves hopefully maintain enough of the familiar to be read whilst alluding to something else. They begin to spit forward absurd and impossible architecture, strange cloud formations and slabs of intersecting colour. As with many of the current print series I'm working on they look at the idea of asking viewers to consider how they look at and read images and how this is then skewed and altered when what we may normally focus on is removed or obstructed: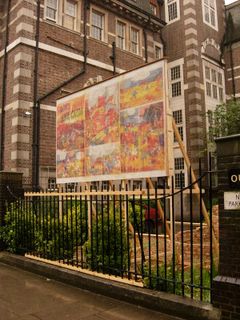 Print two has also been printed and i may try and get it up on the board tomorrow before a three or four day hiatus. Here's a sneaky peek at it. As always, pictures will be posted once completed: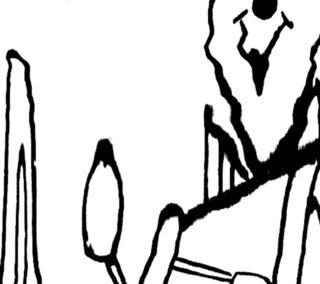 I have also been posting about this on a couple of other places, my myspace blog and the forum on gigposter.com particularly and there have been some interesting responses. Here's a few comments from the gigposters forum that seemed particularly relevant or struck a cord with me somehow:
matthewthirteen: That is the most punk concept I've ever seen. Reclaiming public space legally.
Phoondaddy: B-DROID said he was going to tag your billboard this week. LOAD THE MUSKETS!!!!!!!
Both of these seemed to carry some resonance because of the idea of this being a project about display and how we use public space for art.
It does frequently feel that there is little way to publicly show work in this country that doesn't involve either large grants or breaking the law. Chelsea itself has just had its parade ground refurbished in order to house large scale commissions. This is obviously an interesting and exciting idea, depending on what they commission, but how and where do we show on a more grassroots level? I suppose i feel that the billboard offers me this opportunity for a few weeks and allows others to both see and comment on what i am doing. I also like this idea of the project being a 'punk concept'. As a man with a love of punk and its ethos for many years (i even played in a punk band or sorts called, rather sadly, Orifis. Oh dear...) the idea that the billboard somehow reflects this DIY way of operating (both in terms of the board itself as an alternative space, a small jeering alternative to Tate as one person suggested, and in terms of the way the work is cheaply printed, is disposable, temporary, a giant zine revealed page by page), really appeals. The second comment quoted is also interesting. No not the muskets part, though i do like a musket, more the concept of how this board will interact with or be interacted with by the public itself. I am not asking for it to be tagged etc, I'm merely musing over what could happen is all...
A question was also asked about quantifying what exactly would happen in terms of the pasting over of images. Heres the succinct response that i think worked well:
In terms of pasting over stuff, I will put up a giant print of mine on most days over the next couple of weeks so the one before gets pasted over, and then the next one etc. On the 22nd/23rd it will be a noticeboard for all so i will cram up loads of prints salon style. If i have a huge amount i will do a couple of days. I want people to advertise selling their couches through to some empty rants etc. Like a cross between speakers corner and the free classified ads...
I'm rather pleased with that last line so on that note i will call it a day.